Governor General hears stories of hope at St Thomas Aquinas
05 Sep 2017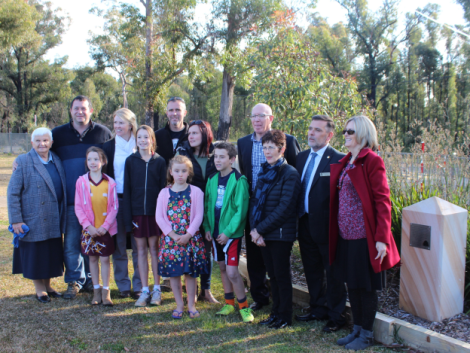 Governor General David Hurley and Mrs Hurley with Blue Mountains families
His Excellency General The Honourable David Hurley AC DSC (Ret'd), Governor of New South Wales, accompanied by Mrs Linda Hurley, visited St Thomas Aquinas Primary, Springwood on Saturday 11 July to speak with students and families who lost their homes in the October 2013 bushfires.
Governor Hurley said he seized the opportunity to see first-hand how the rebuilding is progressing, 'but really just to meet people and hear their own stories face-to-face.'
'I hope it's the first of many more visits to the Blue Mountains to come,' he said
He said he was 'pleased to be able to personally congratulate' St Thomas Aquinas, Springwood Principal, Sergio Rosato, for being awarded a Gold Papal Medal last year for his service to his community at a time when his own home had been destroyed by the bushfire.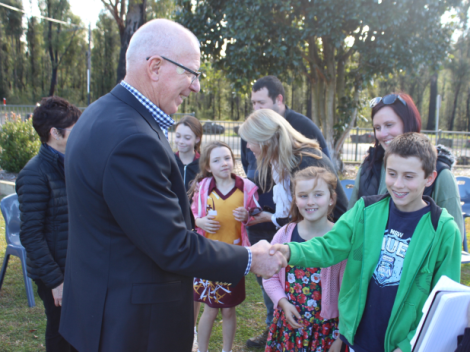 Governor Hurley thanking St Thomas Aquinas students for their story
He also said it was heartwarming to know that many people are moving back into their streets and that strong community support and initiatives were continuing.
'From what I've heard here today, people went through a tumultuous experience and had very little or no warning because the fire spread so quickly - these were very difficult situations that were different for everyone,' Governor Hurley said. 'Yes, nearly two years have passed, but that's not the end of it all. It's far from it.'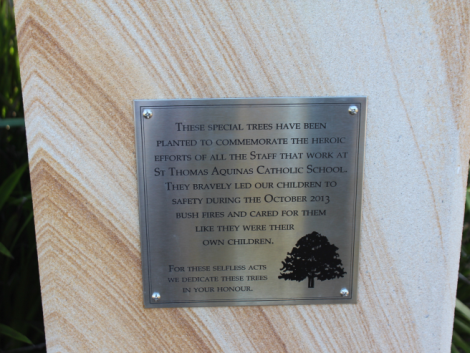 The commemorative plaque set on Blue Mountains sandstone
Sergio showed General Hurley the school's commemorative garden that serves as a permanent reminder of the care and effort shown by staff when leading the children to safety when the bushfires struck.
From Facebook
24 Sep 2022

Year 5 have had fun learning about Australia Federation, culminating in a re-enactment of the Constitution Convention, we loved their deep wondering, "Where were the women?" "Only people of European decent?" "No Aboriginal people?" "Only land owners?"

23 Sep 2022

The MacKillop Athletics Carnival was at Sydney Olympic Park on Wednesday 21 September. Congratulations to our Year 4 athletes James and Jack. James showed a great deal of strength in the shotput and Jack showed great endurance in the 1500m. Well done to Lucas who came 7th in the 100m final and Eli who gave it his all in a nail biting run, awarding him 4th place in the 800m. Chloe performed very well in all of her events and will now continue on to the NSWPSSA State Athletics Championships. Congratulations Chloe on finishing 3rd place in the senior girls 800m. Both the senior boys and girls relay teams made it through to the finals and powered home just like they had done in the many practice runs that they trained so hard for. Out of a whopping 16 teams, the Senior boys finished 7th place overall and the Senior girls team in 6th place overall. Senior Boys Team: Hugo, Thomas, Eli and Lucas. Senior Girls Team: Mackenzie, Bella, Annabelle and Chloe. Congratulations to all of our MacKillop athletes, we are very proud of you!