Fr Paul receives blessing in visiting kindy students
21 Oct 2020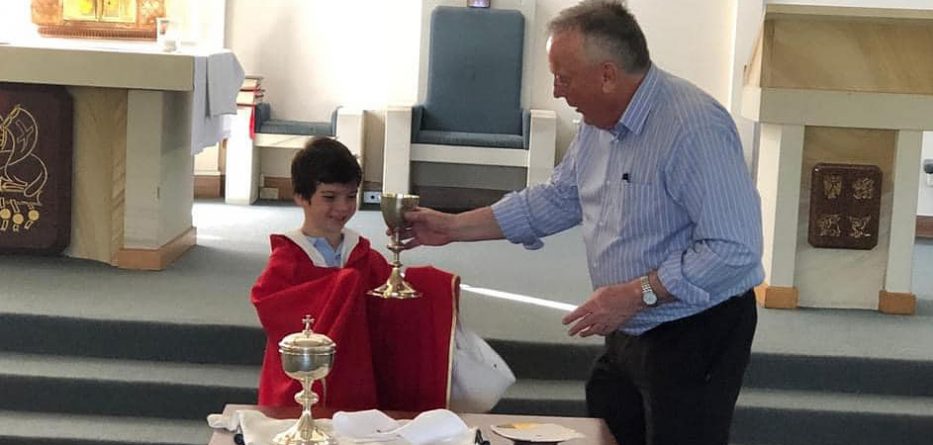 Fr Paul Slyney, Parish Priest of St Thomas Aquinas Parish, Springwood, interacts with a kindergarten student from St Thomas Aquinas Primary, Springwood during a recent visit to the church. Image: St Thomas Aquinas Catholic Community Springwood/Facebook.
It has been a difficult year for all of us, but it can be especially hard if all of the distractions happened in your first year of 'big school'.
But for Kindergarten students at St Thomas Aquinas Primary, Springwood, the easing of restrictions surrounding the pandemic has meant they have been reunited with an old friend – Fr Paul Slyney, the Parish Priest.
"During 2020, our Kindergarten students have had limited opportunities to visit our church and get to know Fr Paul," Virginia Fortunat, Religious Education Coordinator at St Thomas Aquinas told Catholic Outlook.
"They were delighted to receive an invitation from Fr Paul to visit the church and learn more about his vocation in our St Thomas Aquinas Parish community," she said.
Fr Paul added, "I consider the pastoral care of the students and families to be of vital importance.
"Once the NSW restrictions had eased, it was important to engage with the children again to talk about their Catholic faith and ensure that they were feeling happy, safe and were coping with our strange times that we find ourselves in."
The "wonderful and engaging students," as described by Fr Paul, asked a range of questions about his life as a priest.
"The hands did not stop going up," he said.
Images posted on the parish's Facebook page show students dressed in Fr Paul's vestments, sitting on the Presider's Chair and holding the various vessels used during Mass.
Virginia explained, "it was a wonderful opportunity for the students to get to know Fr Paul a little better and for Father to respond to their curiosity."
Fr Paul said how important it was to maintain a strong connection between the school and parish community and the joy he received in being able to speak with them.
"I am a regular visitor to both the Primary and Secondary schools, so I am a familiar face to all of the students.
"I have conducted Mass on both school grounds, so when the students come to church, they are seeing someone familiar, a person they can trust.
"It has been particularly hard on each of the parishioners and students during this turbulent time. I have been unable to visit the schools, but I know that their curriculum encompasses all that I could ever wish to impart on them.
"To see them in church again is a blessing."
Each of the students were given a candle that was blessed to take home, encouraging them to place it on their tables during dinner and to light it when saying prayers.
"We would like the children to involve their brothers and sisters, Mums and Dads, cousins and friends in our church.
"We would love for the children to know how much God loves them and for them to trust in the Word of the Lord," Fr Paul said.
From Facebook
24 Sep 2022

Year 5 have had fun learning about Australia Federation, culminating in a re-enactment of the Constitution Convention, we loved their deep wondering, "Where were the women?" "Only people of European decent?" "No Aboriginal people?" "Only land owners?"

23 Sep 2022

The MacKillop Athletics Carnival was at Sydney Olympic Park on Wednesday 21 September. Congratulations to our Year 4 athletes James and Jack. James showed a great deal of strength in the shotput and Jack showed great endurance in the 1500m. Well done to Lucas who came 7th in the 100m final and Eli who gave it his all in a nail biting run, awarding him 4th place in the 800m. Chloe performed very well in all of her events and will now continue on to the NSWPSSA State Athletics Championships. Congratulations Chloe on finishing 3rd place in the senior girls 800m. Both the senior boys and girls relay teams made it through to the finals and powered home just like they had done in the many practice runs that they trained so hard for. Out of a whopping 16 teams, the Senior boys finished 7th place overall and the Senior girls team in 6th place overall. Senior Boys Team: Hugo, Thomas, Eli and Lucas. Senior Girls Team: Mackenzie, Bella, Annabelle and Chloe. Congratulations to all of our MacKillop athletes, we are very proud of you!