Education Minister visits students affected by Blue Mountains bushfires in Springwood
19 Mar 2014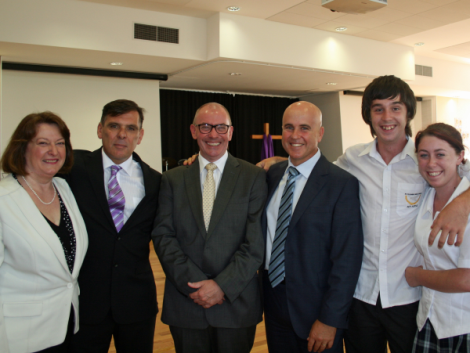 Dr Roza Sage Member for Blue Mountains, Sergio Rosato Principal at St Thomas Aquinas Primary, Paul Ryan Principal at St Columba's College, Education Minister Adrian Piccoli MP and St Columba's students James Freeman and Jordan Hallam
Education Minister Adrian Piccoli MP and Member for Blue Mountains Dr Roza Sage paid a special visit to students from St Thomas Aquinas Primary and St Columba's College in Springwood.
On Tuesday 11 March, Minister Piccoli met with students who were directly affected by the bushfires of October 2013.
Students spoke openly and movingly of how their lives have changed since their home-life and community were devastated by the fires. Several students acknowledged how much closer the experience has brought them as families and as a community. Year 11 St Columbus student James gave special thanks for his teachers who 'were always there for him'.
Minister Piccoli said he was privileged to hear their stories and hoped, like the grass and trees were growing again, that they were beginning to move on with help from each other.
Dr Sage reassured students that grieving was a normal part of life sharing her own story and inspiring students with hope for the future.
Following the meeting, Minister Piccoli and Dr Sage joined students and teachers for a morning tea.
From Facebook
24 Sep 2022

Year 5 have had fun learning about Australia Federation, culminating in a re-enactment of the Constitution Convention, we loved their deep wondering, "Where were the women?" "Only people of European decent?" "No Aboriginal people?" "Only land owners?"

23 Sep 2022

The MacKillop Athletics Carnival was at Sydney Olympic Park on Wednesday 21 September. Congratulations to our Year 4 athletes James and Jack. James showed a great deal of strength in the shotput and Jack showed great endurance in the 1500m. Well done to Lucas who came 7th in the 100m final and Eli who gave it his all in a nail biting run, awarding him 4th place in the 800m. Chloe performed very well in all of her events and will now continue on to the NSWPSSA State Athletics Championships. Congratulations Chloe on finishing 3rd place in the senior girls 800m. Both the senior boys and girls relay teams made it through to the finals and powered home just like they had done in the many practice runs that they trained so hard for. Out of a whopping 16 teams, the Senior boys finished 7th place overall and the Senior girls team in 6th place overall. Senior Boys Team: Hugo, Thomas, Eli and Lucas. Senior Girls Team: Mackenzie, Bella, Annabelle and Chloe. Congratulations to all of our MacKillop athletes, we are very proud of you!