Bishop Vincent Long installed as the fourth Bishop of Parramatta
23 Jun 2016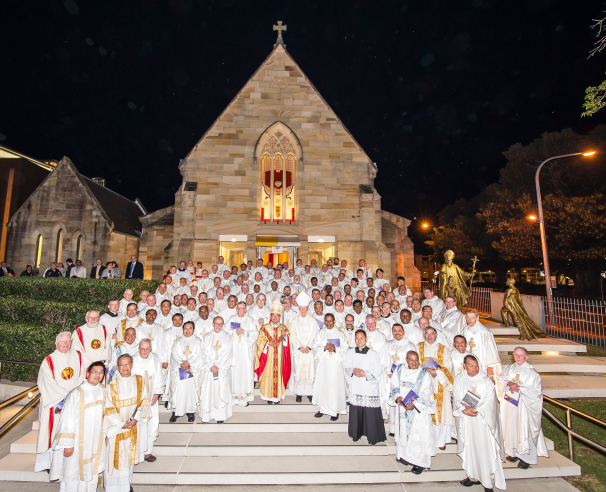 Bishop Vincent Long installed as the fourth Bishop of Parramatta (photo thanks to the Diocese of Parramatta).
Western Sydney and the Blue Mountains warmly welcomed Bishop Vincent Long Van Nguyen OFM Conv as the fourth Bishop of Parramatta on the evening of Thursday 16 June 2016 in St Patrick's Cathedral, Parramatta.
The Catholic Mass, attended by thousands, was concelebrated by His Grace Most Rev Anthony Fisher OP, Archbishop of Sydney, the Pope's representative to Australia, His Excellency Most Rev Adolfo Tito Yllana, Apostolic Nuncio to Australia, Archbishops and Bishops of Australia, clergy of the Diocese of Parramatta and visiting clergy.
During his homily, Bishop Vincent said he was humbled by his appointment. 'I am very honoured and humbled by this appointment and grateful for the opportunity to serve the Church in Parramatta during this time,' Bishop Vincent said. 'As your Bishop, I am committed to be a bridge builder.'
'The Scriptures we have heard tonight speak of a radical vision of love, inclusion and human flourishing,' he said. 'We should ask ourselves what it means to apply this expansive vision of God to our social matrix and what it means to be a house for all peoples.'
Bishop Vincent said he wanted to be a bridge builder to all communities and reached out to abuse victims, divorcees and the LGBTIQ community in particular. 'There can be no future for the living church without there being space for those who have been hurt, damaged or alienated, be they abuse victims, survivors, divorcees, gays, lesbians or disaffected members,' Bishop Vincent said.
Echoing Pope Francis, Bishop Vincent continued, 'we are urged to be a church where everyone can feel welcomed, loved, forgiven and encouraged to live according to the Gospel… I am committed to make the church in Parramatta the house for all peoples, a church where there is less an experience of exclusion but more an encounter of radical love, inclusiveness and solidarity.'
(Video thanks to the Diocese of Parramatta)
From Facebook
24 Sep 2022

Year 5 have had fun learning about Australia Federation, culminating in a re-enactment of the Constitution Convention, we loved their deep wondering, "Where were the women?" "Only people of European decent?" "No Aboriginal people?" "Only land owners?"

23 Sep 2022

The MacKillop Athletics Carnival was at Sydney Olympic Park on Wednesday 21 September. Congratulations to our Year 4 athletes James and Jack. James showed a great deal of strength in the shotput and Jack showed great endurance in the 1500m. Well done to Lucas who came 7th in the 100m final and Eli who gave it his all in a nail biting run, awarding him 4th place in the 800m. Chloe performed very well in all of her events and will now continue on to the NSWPSSA State Athletics Championships. Congratulations Chloe on finishing 3rd place in the senior girls 800m. Both the senior boys and girls relay teams made it through to the finals and powered home just like they had done in the many practice runs that they trained so hard for. Out of a whopping 16 teams, the Senior boys finished 7th place overall and the Senior girls team in 6th place overall. Senior Boys Team: Hugo, Thomas, Eli and Lucas. Senior Girls Team: Mackenzie, Bella, Annabelle and Chloe. Congratulations to all of our MacKillop athletes, we are very proud of you!