Sergio Rosato receives papal medal for bushfire bravery
20 Oct 2014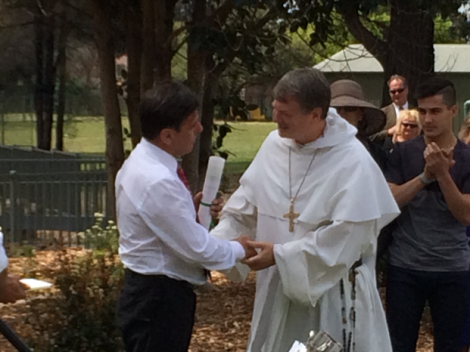 Archbishop Anthony Fisher OP congratulates Sergio Rosato
St Thomas Aquinas Primary Principal, Sergio Rosato was awarded a Papal Medal for his exemplary courage in evacuating his entire school during life-threatening bushfires in October 2013.
The Catholic Bishop of Parramatta, Archbishop Anthony Fisher OP presented the medal to Sergio at a ceremony held today on the one-year anniversary of the 2013 Blue Mountains bushfires.
In conferring the award, Archbishop Anthony Fisher acknowledged Sergio for remaining calm and dedicated, ensuring every child was accounted for and safely reunited with their families.
"This was despite his awareness that his own home had been destroyed," said Archbishop Anthony Fisher. "The actions of Mr Sergio Rosato were heroic and exceptional."
"He is a man of strong faith, strong moral principles and integrity, proactive member of his Parish."
Archbishop Anthony Fisher conferred the Benemerenti medal on behalf of Pope Francis.
"Pope Francis has advised me that 'in recognition of his singular service to the Christian life' Mr Sergio Rosato is awarded the gold papal medal 'Benemerenti'."
The Benemerenti medal was instituted by Pope Gregory XVI in 1832 and is conferred on those who have exhibited long and exceptional service to the Catholic Church, their families and community.
The families of St Thomas Aquinas students and the community of Springwood gathered together today on the anniversary of the 2013 bushfires to offer prayers of thanksgiving and plant trees to honour the 50 staff who cared for the children during their evacuation last year.
Fifty trees were planted to commemorate the heroic efforts of staff at St Thomas Aquinas symbolising strength hope and new life. The parents of St Thomas Aquinas unveiled a plaque honouring the courageous actions of staff, 'They bravely led our children to safety, and cared for them as their own'
Archbishop Anthony Fisher OP presented the school with a Certificate of Appreciation to the teachers and staff for their outstanding commitment to the children in their care that day and every day.
Led by Principal Sergio Rosato, St Thomas Aquinas Primary School in Springwood was forced to evacuate over 600 staff and students on 17 October 2013 as the bushfires threatened the school property. The students and staff walked calmly and bravely to safety to the Winmalee Shopping Centre despite some of their own homes being damaged or lost during the fires.
St Columba's student Madison Thompson named all the feelings the students had as witnesses to the terrible 2013 fires and responded with gratitude for those who helped each other.
"Today presents an opportunity to reflect on what this day has meant to us, perhaps revealed to us about ourselves or about others," said Madison. "The extent of the damage is undeniable, but so too is the hope. That is what we should try to remember."
From Facebook
24 Sep 2022

Year 5 have had fun learning about Australia Federation, culminating in a re-enactment of the Constitution Convention, we loved their deep wondering, "Where were the women?" "Only people of European decent?" "No Aboriginal people?" "Only land owners?"

23 Sep 2022

The MacKillop Athletics Carnival was at Sydney Olympic Park on Wednesday 21 September. Congratulations to our Year 4 athletes James and Jack. James showed a great deal of strength in the shotput and Jack showed great endurance in the 1500m. Well done to Lucas who came 7th in the 100m final and Eli who gave it his all in a nail biting run, awarding him 4th place in the 800m. Chloe performed very well in all of her events and will now continue on to the NSWPSSA State Athletics Championships. Congratulations Chloe on finishing 3rd place in the senior girls 800m. Both the senior boys and girls relay teams made it through to the finals and powered home just like they had done in the many practice runs that they trained so hard for. Out of a whopping 16 teams, the Senior boys finished 7th place overall and the Senior girls team in 6th place overall. Senior Boys Team: Hugo, Thomas, Eli and Lucas. Senior Girls Team: Mackenzie, Bella, Annabelle and Chloe. Congratulations to all of our MacKillop athletes, we are very proud of you!